College Details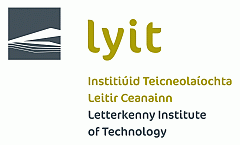 Add to Favourite
Letterkenny Institute of Technology (LYIT)
Port Road, Letterkenny, Donegal, Republic of Ireland
Discover exciting third level education opportunities at Letterkenny Institute of Technology.  The institute has two thriving campuses in Ireland's North West:  Letterkenny and Killybegs. Their Schools of Business, Engineering, Science and Tourism provide a wide variety of programmes, with awards right up to Masters and Doctorate level. With over 3,000 students from around the country, LYIT provides a vibrant and lively atmosphere. Students and staff work closely together creating a diverse and friendly community that relies on support and teamwork.
Excellent academic learning and career focused practical experience is encouraged on both campuses at Letterkenny and Killybegs. The Letterkenny Institute of Technology offers outstanding modern facilities within all departments such as a business development centre, nursing resources, graphic design studios and training kitchens and restaurant. LYIT also encourages recreational activity that can be taken advantage of in their multi-purpose centre, An Dánlann. This centre hosts state of the art sports facilities, a medical centre, counselling service and a careers office.
At the Letterkenny Institute of Technology there are a wide variety of Full-time and Part-time courses within Business, Humanities, Computing, Science and Tourism & Hospitality. Undergraduate and postgraduate courses are also available, along with Master and PhD. LYIT boasts a number of eclectic clubs and societies within sports and the performing arts, which enhance the culture and sophistication of the campus. Some of these outlets include Athletics, Rugby, GAA, Soccer, Basketball, Dance, Pilates, Spin Fit and more.
There are no courses listed for Letterkenny Institute of Technology (LYIT) in Corporatetraining.ie's database of courses.
You can search for more courses by returning to our
courses search
.