Course Description
Principles of Prosperity (Online)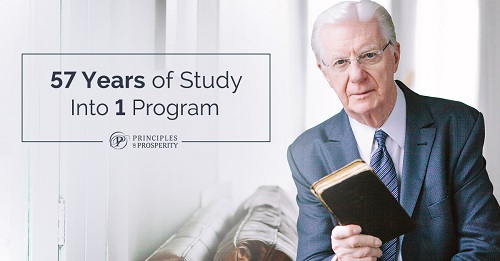 Principles of Prosperity: Executive Success Mindset & Education
Principles of Prosperity fills a unique and enormous need in the professional business world
It reveals the secret golden thread to success that Napoleon Hill wove throughout Think and Grow Rich—the book that is responsible for creating countless millionaires and the book that is one every single world-class entrepreneurs must-read list.
The program is unlike any other personal development book/ business book or course for five important reasons:
Principles of Prosperity makes your success far easier because it doesn't just tell you what to do; it tells you how to do it.
Bob Proctor knows what it's like to try everything yet achieve nothing. He used the Think and Grow Rich book to earn his first millions; he has already trodden the path you need to follow.
Unlike any other success guru, Bob has been studying and living the principles of success presented in Think and Grow Rich every day since 1961
It dives deep into each of the 13 principles of Think and Grow Rich as no other resource has done before, and it expands on each one by adding Bob's unique insights and experience over 57 years.
The information is not only life-changing, but it's also entertaining and uniquely watchable so you will genuinely enjoy watching it—you'll watch longer, more often and retain the information better.
Product Features
Principles of Prosperity is a high-quality, movie-style production that takes you on a journey through Think and Grow Rich like never before. The program includes 16 Full-Length Video Lessons and the following world-class experts sharing their personal success insights for you to replicate and use for yourself:
Bob Proctor
Barbara Corcoran
Rob Dyrdek
Lewis Howes
Grant Cardone
Sharon Lechter
Sandy Gallagher
Tim Storey
John Shin
Jim Stovall
Dennis Kimbro
Joel Brown
John Lee Dumas
Darren Hardy
Warren Moon
Lionel Sosa
Learn how to be the star of your own movie, not a supporting actor!

Training Provider
Proctor Gallagher Institute
Course Location
Carlow
Course Category
Business Income Training, Finance
Course Type
Online Learning
Course Qualification
CPD
Course Time
CURRENTLY ENROLING
Course Fee
$1995.00
Entry Requirements
Excellent For … Anyone who loves Think and Grow Rich but hasn't quite cracked the code to success… people who have a strong desire for money… anyone who wants to improve the quality of their life. Author Bob Proctor Delivered Via Membership Site
Phone
0879536759
Course Code
PRINCIPLES OF PROSPERITY
For information about Proctor Gallagher Institute, please visit our Training Provider page on Corporatetraining.ie by clicking
here
.
Course Provider
Ireland (Online Programme), Dublin, Republic of Ireland
Request Quotation
Please insert your contact details and any additional information you require and we will forward your request to Proctor Gallagher Institute.