Course Description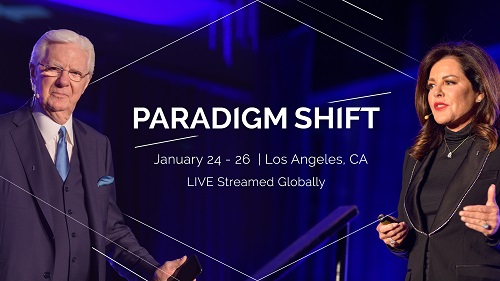 Paradigm Shift:
Change Your Performance for Life
Executive Creative Thinking & High-Performance Boot Camp
Three Powerful Days | January 24 – 26, 2020
Event Overview
Bob Proctor has been mastering the art of goal setting and goal creation for more than 50 years.His decades of trial and error led him to the following discovery:
There is a science to getting what we want in life. ANYONE who follows a specific process that puts them in harmony with the universal laws that govern creation can achieve anything they want.
Paradigm Shiftis designed to bridge the gap between where you are, and anywhere you want to go. It will inspire you to go after and achieve a big, audacious goal in 2020 and beyond. This process will shift your perception of who you truly are and what you're capable of doing for the rest of your life.
Paradigm Shiftwill show you how to achieve anything you want:
Financial security (enterprise or personal)
Personal or organisational growth
Identifying next steps
Improving and ensuring satisfying relationships with family, friends and colleagues
Improved health, vitality and creativity
A rewarding and enjoyable vision, leading to more exceptional results and a better life
And more than you can imagine right now from your current perspective
This event is perfect for professionals why are tired of not reaching their goals. It can be of benefit to those who have a desire to change their life but don't know the mechanics of how to do it; or those that want to achieve something they've previously only dreamed about.
If you or a member of your family, friends or board falls into any of those categories, register for the LIVE Stream event. You can watch the entire workshop from anywhere in the world, from your computer or mobile device.
LIVE Stream Details
Paradigm Shift will be held in front of a live audience 24-26th January 2020.
The entire event will be streamed so you can watch it LIVE from your computer or mobile device. Plus, you'll have access to the replay for 14 days.
Learn how to be the star of your own movie, not a supporting actor!

Training Provider
Proctor Gallagher Institute
Course Location
Carlow
Course Category
Coaching, Management & Leadership Development
Course Type
Online Learning
Course Qualification
CPD
Course Start Date
24th January 2020
Course End Date
26th January 2020
Course Duration
3 days of incredible information
Course Time
Available live and as a webinar event as a replay
Course Fee
Online: $197.00- 13,979 for VIP Table
Entry Requirements
CURRENTLY ENROLING
Phone
0879536759
Course Code
Paradigm Shift
For information about Proctor Gallagher Institute, please visit our Training Provider page on Corporatetraining.ie by clicking
here
.
Course Provider
Ireland (Online Programme), Dublin, Republic of Ireland
Request Quotation
Please insert your contact details and any additional information you require and we will forward your request to Proctor Gallagher Institute.